Vertical Floating Video Showcase for Joomla (Joomla)
Freedom to Display any Number of Youtube Videos with Flexibility
You have great product reviews in video format that you wish to showcase within your site? You want your visitors not to leave your website while visiting? Your company has tons of official videos on youtube that you wish to share? Video testimonials to add to a page with high visibility? With this product you will be able to do all of that. Moreover the plugin has great transition effect, utilizes caching and does not affect your site's performance since we only show static image thumbnail on site loading.
Key Features:
Display video with Youtube Video ID, Video Playlist ID or Channel Name
Take Input of Multiple Video ID in Comma Separated Format
Set the Number of Video You Want to Show
Custom Design Related Features
Styling Options:
Define the Vertical Position for the Floating Button
Option for Setting Custom Height and Width for Custom Image
A Nice Collection of Preset Buttons in Different Sizes and Colors
Adding Custom Image for the Button is Necessary
Custom Background Color for the Video Display Box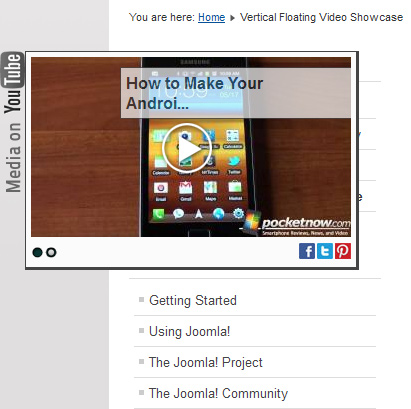 Social Features:
Facebook Share
Twitter Share
Pinterest Share
Easy to Setup:
Put Your Video ID
Select Your Style and Position
Save and Enjoy
Joomla Compatibility:
This Plugin works for all Joomla (1.5, 2.5 and 3.x) versions.