Premium SEO Pack – WordPress Plugin (SEO)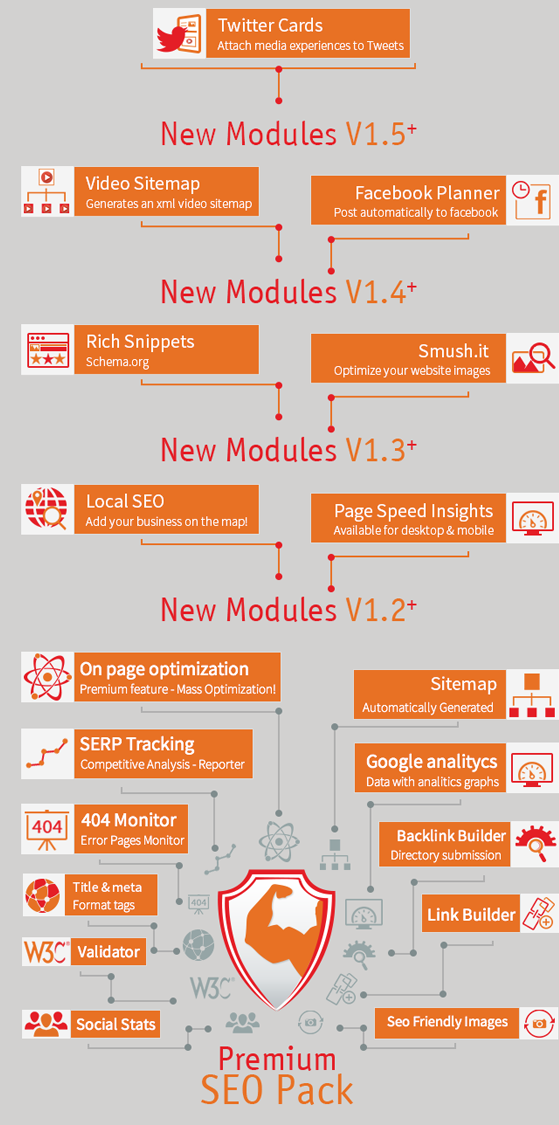 What's Premium SEO Pack ?
Premium SEO Pack is the newest and most complete SEO WordPress Plugin on the market!
Also it has the most unique feature, that cannot be found on any existing plugins on the market.
It's called SEO MASS OPTIMIZATION and it allows you to mass optimize all your post/pages/custom post types in just seconds!
The Premium SEO Pack Plugin has everything that you can possibly need, starting with page analisys, social stats, page validation, SEO Frendly Images and many many more !

Mass Optimization & On Page Optimization
Mass Optimization
This is a premium feature that will allow you to mass optimize your wordpress website in just a few clicks!
It's the most unique feature and you will not find it anywhere else on the market.
How does this work? Well this module allows you to optimize all your posts/pages/custom taxonomies at once!
Using this module you can auto detect the Focus Keyword for all posts/pages/custom taxonomies in just the click of a button! And not only that!
You can mass optimize the Meta Titles, Meta Descriptions and Meta Keywords for all posts/pages/custom taxonomies.
What can be easier than that? Optimize your WordPress Website in seconds!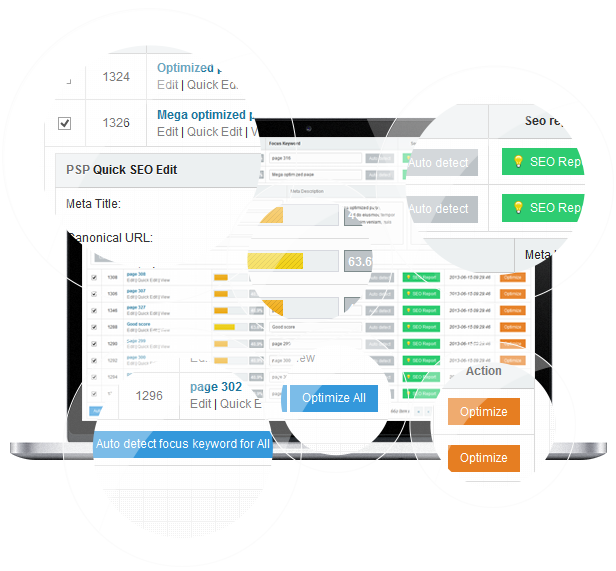 On Page Optimization & On Categories Optimization!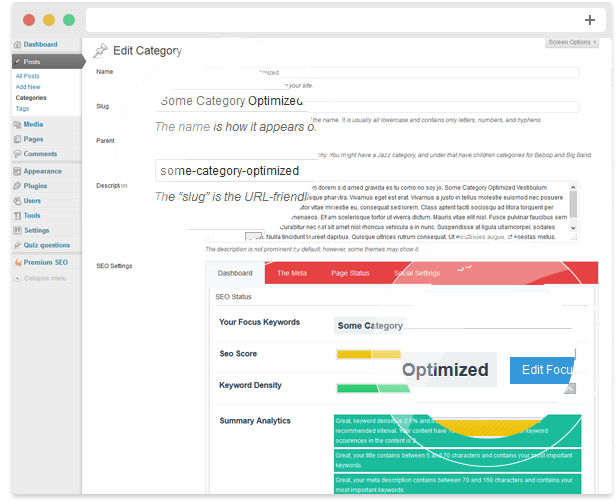 Another unique feature, we have optimization for categories as well! And for any custom taxonomies!
Here you can set your Focus Keyword, Check the SEO Score, The Keyword Density, The Meta with – Rich Snippet Preview, SEO Title, Meta Description & Meta Keywords.
You can also see a Page Status where you can check all the main elements, if they are in the right parameters.
Also, you can setup Social Settings, for Facebook, to use Facebook Meta, Title , Description and Image.
For advanced users we have some Advanced SEO, that includes the Meta Robots Index, Meta Robots Follow, Include in Sitemap & Canonical URL.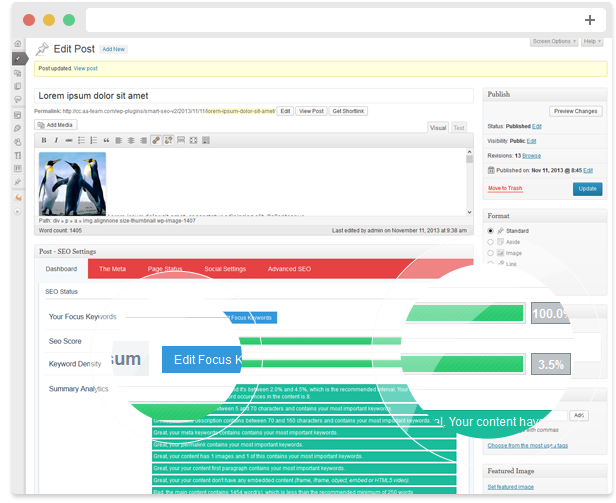 Google Analytics
Google Analytics can be a bit complicated if you don't know what you're looking for. We've made a module that takes the data from Google Analytics and transforms it into an easy to understand dashboard, that will allow you to see the impact on search engines, and not only that.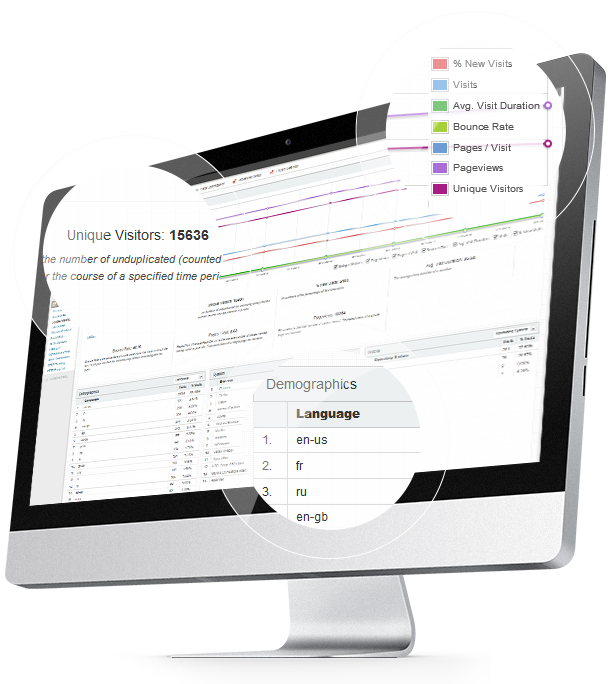 404 Monitor
Our SEO Pack also contains a 404 Monitor Module.
Keep your users visiting experience at a high level by monitoring the 404 error pages.
On this module you can see what URLs are referring visitors to 404 pages, how many hits it had and the possibility to redirect them to another page.
This helps you keep your ranking without google downgrading you.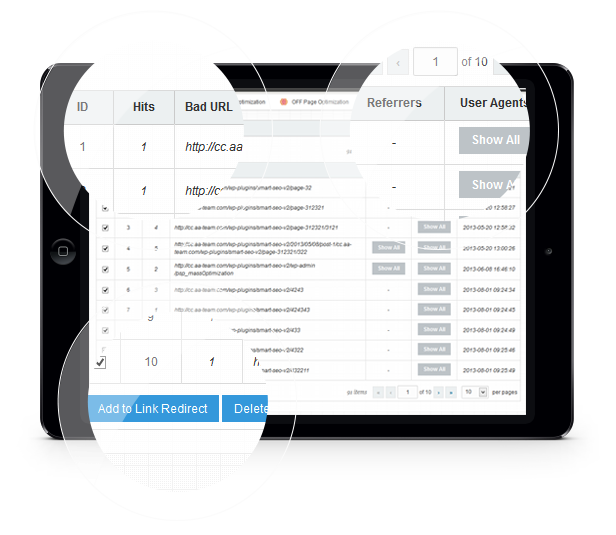 Sitemap
The Sitemap Module helps you create a sitemap for your WordPress website.
The sitemap is generated automatically, and you can submit it to Google or Bing right from the dashboard.
You can choose what to include, and if you want to include Images as well.
You can also setup how often it should update, depending on how much new content you have.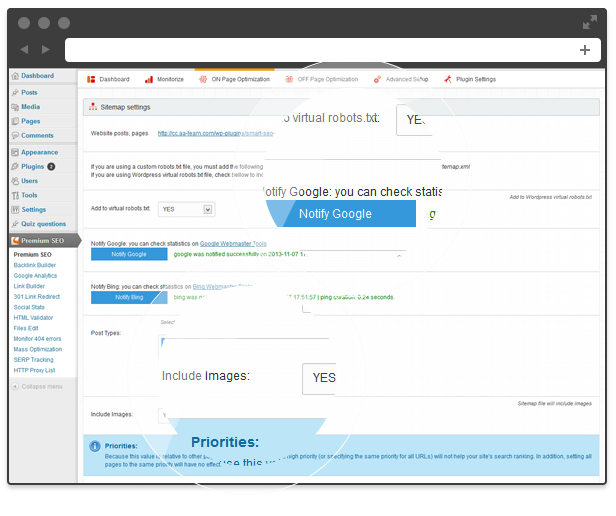 Using this module you can set custom page titles, meta descriptions, meta keywords, meta robots and social meta using defined format tags for Homepage, Posts, Pages, Categories, Tags, Custom Taxonomies, Archives, Authors, Search, 404 Pages and Pagination.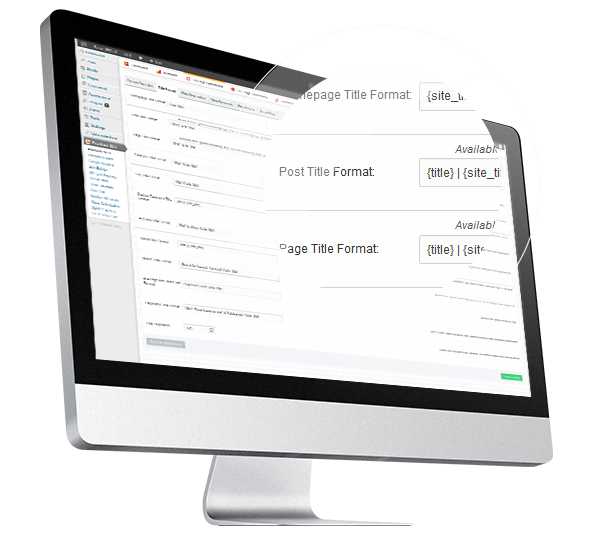 SEO Friendly Images
Images Optimization is an important part of Search Engine Optimization.
How does it work? This module will automatically update all images with proper ALT and Title Attributes.
If they don't have ALT setup, the SEO Friendly Images will add them according to the options you set.
The SEO Friendly Images describes your image to search engines and when a user searches for an image this is a big factor for matches.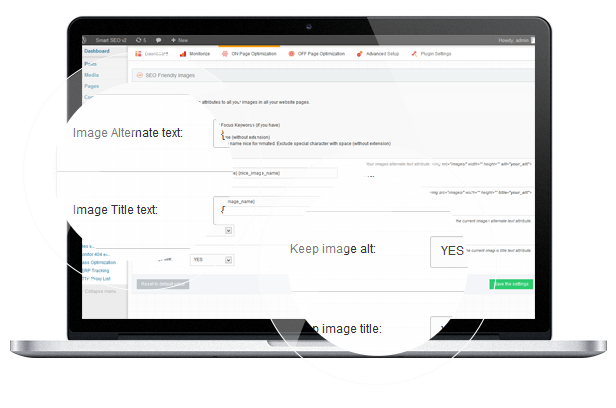 Link Builder
How does this module work? The Link Builder Module allows you to improve your site internal link building.
You can create list of keywords and URLs, and they will automatically be created. You don't have to bother to take each post and modify it, this module does that for you! All you have to do is to insert a keyword and a URL, and within all your articles the links will be published.
Why do you need it? It Improves the user's experience around the website with internal links, It Improves SEO by spreading the link around your website and you can also create Links to sources or affiliate links whom you reference a lot.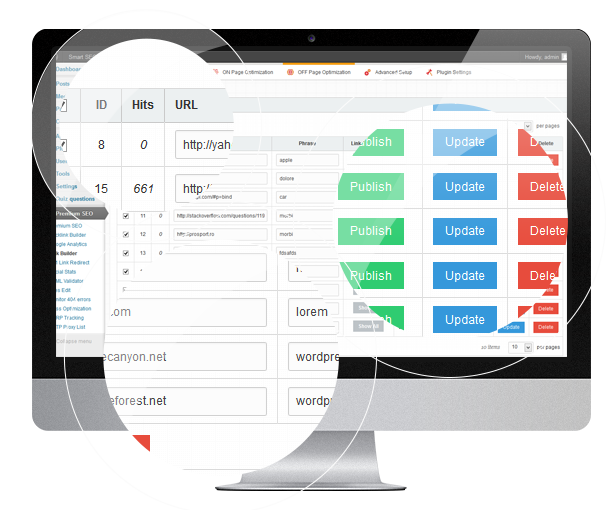 Social Stats
You're putting a lot of effort on marketing your website trough social media? Want to know for sure if your tactics have results?
Using the Social Stats feature you can do it easily! Share as much as you can and we will keep track of your social network size, and if it reached the biggest social channels. You can use this tool to analyze your competition too!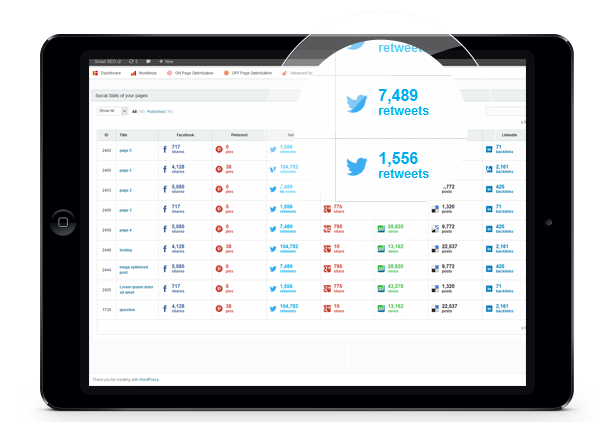 Backlink Builder (Directories Submission)
Our Backlink Builder Module will automatically add your link to thousands of different website directories that will automatically provide free backlinks for you in just minutes!
There are over 700 highly ranked directories available that you can submit your URL to.
How does the Backlink Builde module help you?
All of the directories are highly ranked websites, and these quality backlinks are very helpful for your websites for fast indexing and easy backlinks, because most of the backlink pages contain your website title, website meta description tags and site meta keyword tags.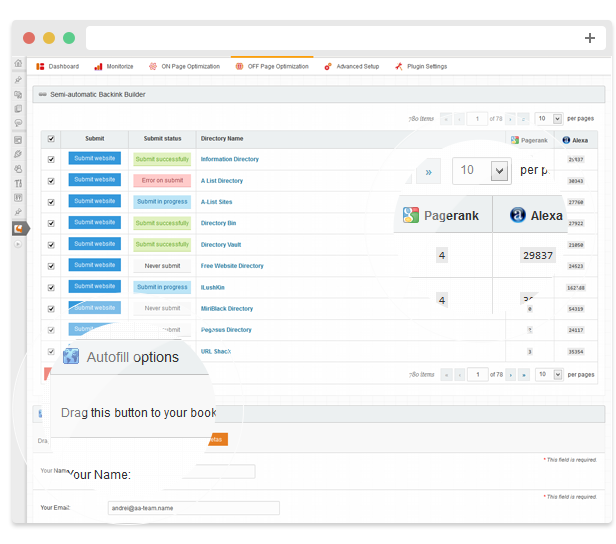 301 Link Redirect
Yep, we have an Automatic 301 redirect module also. This module is very useful for any permalink changes.
The Link Redirect Module gives you an easy way of redirecting requests to other pages on your website or anywhere else on the web.
It's very useful if you want to move a WordPress site, and you want to migrate the whole website. This way when migrating you can keep your URL structure.
By setting up 301 Redirects from old pages to new pages, any incoming links will work, and your pagerank will not suffer or be downgraded by Google.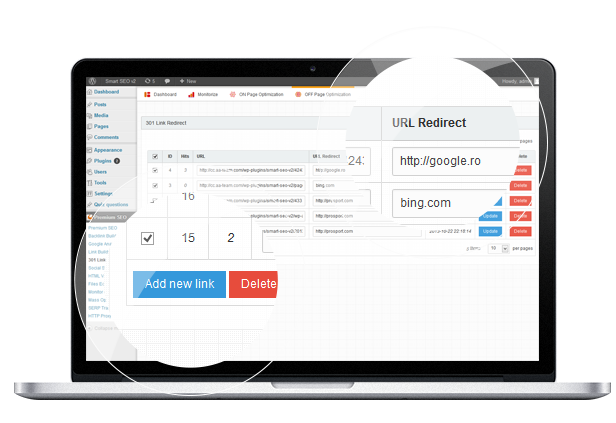 W3C Validator
This module allows you to Mass Check the markup (HTML, XHTML, …) of your pages/posts/custom taxonomies.
You can filter by type (Posts / Pages …), verify the page, check status (valid / invalid), see the number of errors / warnings, the date when it was last checked, and to view full report.
You can also mass check all your website pages / posts at once in just a button click.

Using this module you can keep all your content optimized and according to W3C Standards.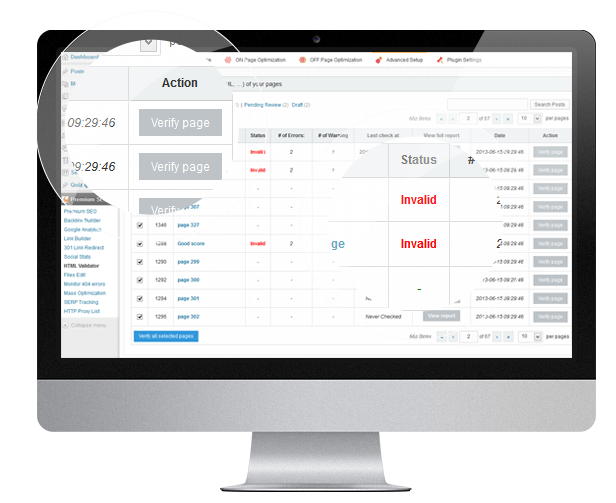 File Edit
File Edit Module allows you to edit the robots.txt and .htaccess files.
It's a bit difficult to do so, we've created a file edit module, from where you can easily modify / update those types of files.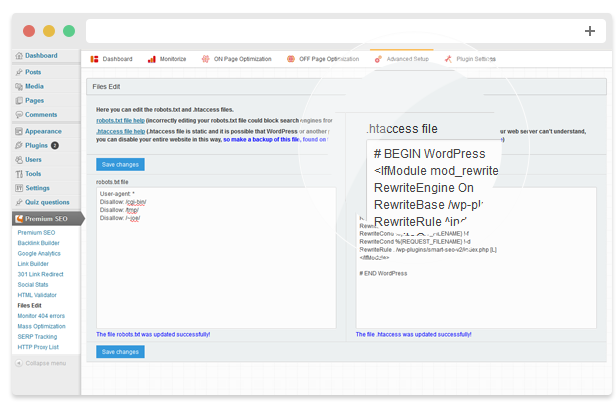 Slug Optimization
Slug Optimizer removes common words from the slug of a post or page.
That way you can Increase in-URL keyword strength by removing "filler words" " (like "a," "am," "and," etc.)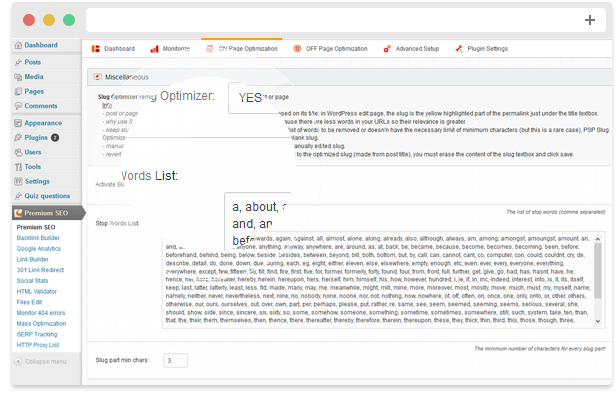 Full features list
Works as plugin on any WordPress Install (3.7+)
Based on modules manager, you must activate the modules in order to work
Monitoring Modules
Google Analitycs
404 Monitor – you can see what URLs are referring visitors to 404 pages, how many hits it had and redirect them to another page
On page Optimization Modules
Mass Optimization – using this premium feature you can mass optimize all your posts/pages at once!
On page optimization – optimize your pages / post types one by one, right on the post/page! It also works on categories and any other custom taxonomies
Title & Meta Format – set custom page titles, meta descriptions, meta keywords, meta robots and social meta using defined format tags for Homepage, Posts, Pages, Categories, Tags, Custom Taxonomies, Archives, Authors, Search, 404 Pages and Pagination.
Sitemap – the sitemap is generated automatically trough our module
SEO Slug Optimizer– Slug Optimizer removes common words from the slug of a post or page
SEO Friendly Images – automatically update all images with proper ALT and Title Attributes

Off Page Optimization Modules
Backlink Builder – automatically add your link to thousands of different website directories that will automatically provide free backlinks
Link Builder – improve your site internal link building.
301 Link Redirect – useful for any permalink changes
Social Stats – keep track of your social network size
Advanced Setup Modules
Files Edit – allows you to edit the robots.txt and .htaccess files.
W3C Validator – Mass Check the markup (HTML, XHTML, …) of your pages/posts/custom taxonomies.
SEO Insert Code – Add custom code into < head > and wp_footer